Science Kits Help Children Enjoy Learning
Projects for kids are more important than ever. With children being taught at home, parents need a variety of ways to get kids interested in learning. Hands-on experiments from iSprowt help introduce science to children in a fun way. Studies show children learn better with interactive, hands on learning.
iSprowt Kit 1
Kit 1 is the iSprowt Herb Garden. Children learn how plants grow as they watch their plant go from seed to edible greenery.
With kit 1 you get these benefits:
Grow an indoor herb garden: basil & oregano with soil that expands like the Incredible Hulk
Learn how plants drink water through capillary action
Dissect a pinto bean
Discover how trees get water up their tall trunks
iSprowt Activity Book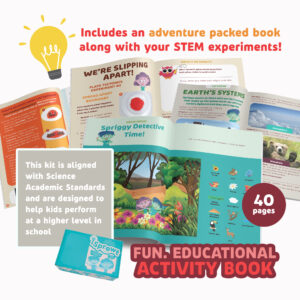 We are known for our books! Packed with games, trivia, experiments and more, the 40-page book accompanies every iSprowt kit and gets kids active in the learning experience.
National Science Standards
Each kit builds on prior kits to expand learning and help young minds apply concepts to the world in which we live. The best part? These learning concepts are aligned around the national academic requirements, so you are giving your kids an academic advantage.
Science Projects Delivered Monthly
Who doesn't like getting a package in the mail? With a subscription, each month your child can get STEM friendly experiments delivered to your door. Review your subscription options here.
Want to make a one-time purchase? The iSprowt Herb Garden is available as a one-time purchase here.
Try the iSprowt Herb Garden today and see how excited your child will be to learn!