STEM Projects
& Science Kits for Kids
Super fun monthly science kits for kids ages 5 – 11
Inspire young minds, develop a sense of pride in their success, and help them achieve their highest potential in school and in life, delivered to your door.
Exciting and Enriching
Science Kits for Kids
iSprowt hands-on STEM kits inspire young minds to build, experiment, and discover. Each kit is filled with 6 – 12 extremely fun STEM activities. Our 40-page kid-friendly book goes beyond directions and delivers a highly enriching and engaging learning experience. The best part about the kit? The science book and STEM activities are so fun and interesting, kids never realize they are learning.
Achieve Higher
Success at School
iSprowt's monthly science kits for kids align around the national science standards. Did you know in 2019, almost 60% of American students failed our own national science standard exams? iSprowt wants to change that forever! Ensure your child is on the side of success and help position them to have a strong academic future. Join iSprowt as we bring science to life in such a fun way that it ignites kids' sense of wonder and imagination.
Designed by Award-
Winning Teachers
iSprowt's science kits for kids are created by a team of award-winning STEM teachers & industry-leading experts. Built on the Scientific Design Process that encourages kids to experiment, take risks, and explore, it's no wonder that kids reach for iSprowt during their free moments. What would you rather have your child reach for – a tablet or exciting, low-mess STEM activities that will enrich their future?
Science Kits for Kids Bring STEM To Life
Each kit builds on prior kits knowledge to expand learning and help young minds apply concepts to the world in which we live. The best part? These learning concepts are aligned around the national academic requirements, so you are giving your kids an academic advantage.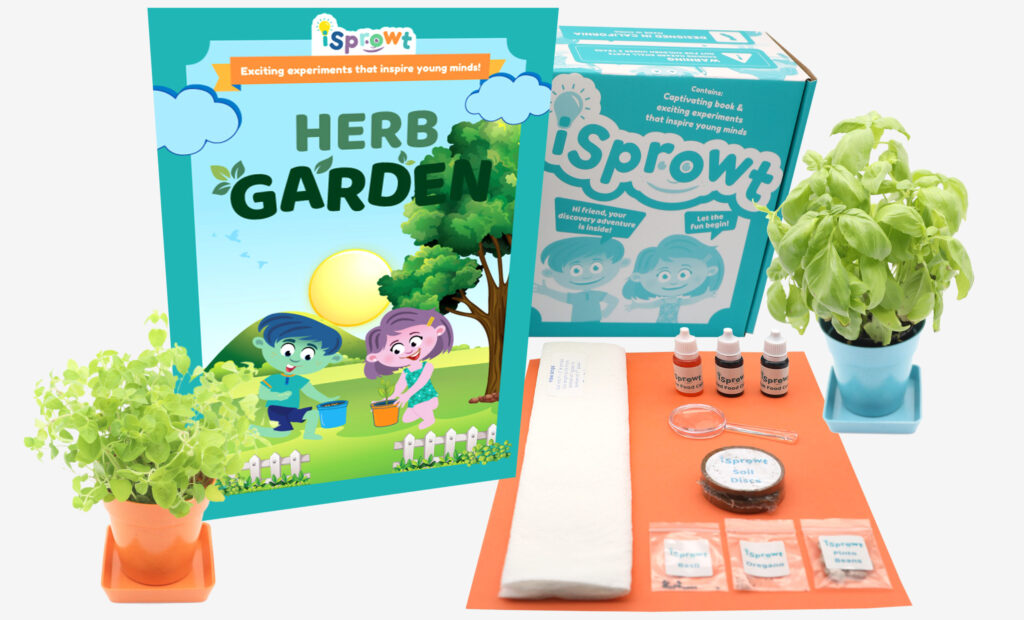 Grow with our Herb Garden Kit!
Discover Our Erosion Kit!

Check Out Our Cool Chemistry Kit!

Race with our Renewable Energy Kit!

Find Your Place in our Universe Kit!

Weather & Natural Disasters Kit!
Happy Kids, Happy Parents!
Here's what our iSprowt Members think
iSprowt's monthly science kits for kids are so much fun! My 10-year-old son, 5-year-old daughter and I really enjoy doing the iSprowt together! It's the perfect blend. The STEM activities are mess-free, extremely interesting, and very engaging! I highly recommend these as the best science kits for kids on the market for elementary school aged children. Maya, Mother of 10-year-old boy and 5-year-old girl
Maya —
Mother of 10-year-old boy and 5-year-old girl
We LOVE the kids science kits we get from iSprowt! It is like opening a gift filled with the best STEM projects. Each month, the STEM activities are very different and really fun. The 40-page booklet is extremely well written. (The booklet alone is worth $20!) The "Level Up" challenges spark my 8-year old's imagination and curiosity. My 6-year-old son jumps with excitement when the science kits arrive. I thought the topics might be too challenging for him, but the combination of the booklet, STEM experiments, and videos bring it all to life. These kids science kits are a winner! Beth, Mother of 8-year-old boy and 6-year-old girl
Beth —
Mother of 8-year-old boy and 6-year-old girl
I believe iSprowt has the absolute best science kits for kids! It has everything a parent wants with multiple STEM activities in each kit. It is super fun, easy to do, fast/no-mess projects and very interesting. The booklet is written in a kid friendly tone. Many of the STEM activities my daughter completes on her own and some of them we do together. Her teacher said she could see a real difference in my daughter's work at school. I highly recommend these monthly science kits for kids! They are an amazing value, highly educational and very entertaining! John, Father of 9-year-old girl
John —
Father of 9-year-old girl